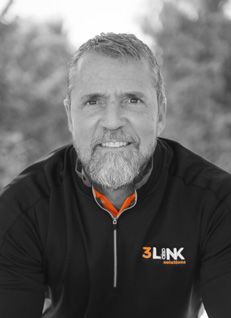 Blake Bristow – Founding Partner, Workday Services
Blake Bristow brings more than twenty-five years' experience in operations, customer service, human resources, consulting and technology services to his role as Founding Partner for Three Link Solutions.
Prior to founding Three Link Solutions, Blake honed his Workday experience with a Workday ecosystem partner as Vice President, Workday Global Application Management and Employee Services. A seasoned leader responsible for optimizing the post-implementation support and service delivery model with a focused effort on building a high-performing team of Workday Certified Consultants through targeted talent evaluation, hiring and training. With hands-on coaching and leadership, Blake drove team performance through effective goal setting, reporting, talent management and a focus on consultant success. Through these efforts, Blake built one of the ecosystem's largest AMS teams serving hundreds of Workday customers, worldwide, through three (domestic and international) service centers.
Previously, Blake spent more than Nineteen years' with a leading restaurant brand in increasingly responsible roles within the organization focused on improving people, processes, products and customer relations including call center operations, franchise IT support, new store concepts and area/general manager responsibilities.
Having visited with hundreds of Workday customers, Blake co-founded Three Link Solutions with the vision of leveraging years of ecosystem relationships to identify and connect customers with seasoned consultants to help solve some of the most common post go-live customer comments of "we didn't know what we didn't know", "we wish someone would have told us" and/or "if we could do it again, we would do things differently….".